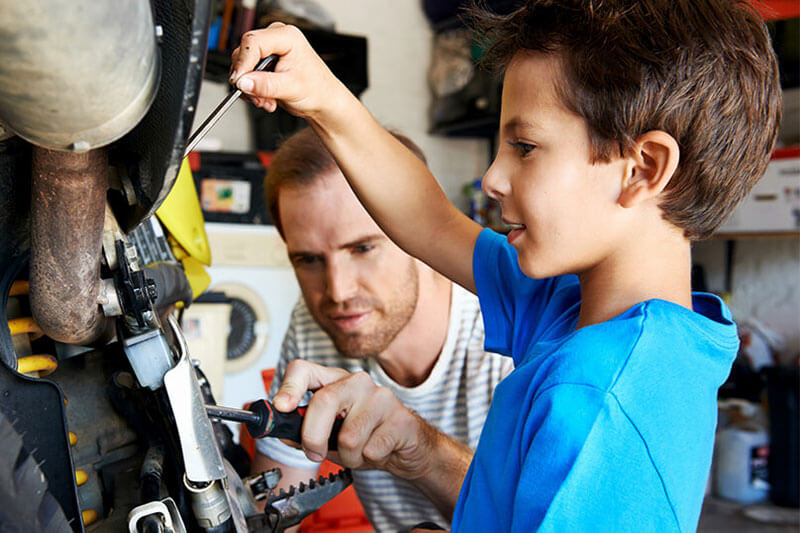 Your garage can be more than just an area to store your vehicles in Kearney. It can be an area to work, provide added storage and more. But when you're out there more often, it needs to be a comfortable temperature.
Garages don't often have the ductwork required for standard heating and cooling systems. While you can install ductwork, it's not the most advantageous solution. The smartest method to heat your garage is by getting a ductless comfort system, like a mini-split system or a garage heater.
Let's go over the difference between the two to help you discover the best solution for your needs.
What Is a Mini-Split?
A mini-split is close to a heat pump as it transfers heat instead of creating it. This makes it a highly energy-efficient heating and cooling system for areas without ductwork. These electric systems are often put on a wall and connected to the outdoor unit through a little hole in the wall.
Even though a ductless mini-split costs more, a lot have earned ENERGY STAR® certification for their energy efficiency. They're also extremely quiet and provide zoned comfort, which offers accurate control over your garage's temperature.
The majority of mini-splits allow you to connect more than one indoor unit to an individual outdoor unit. If your garage is connected to your house, you might be able to install additional indoor units in rooms that are hard to heat and cool.
What Is a Garage Heater?
A garage heater is more than a space heater. This all-encompassing heating solution is installed on the ceiling or the high corner of a wall. Depending on the model, these heaters can use electricity, gas or propane. They're a good solution if you reside in a northern climate and do a lot of dusty work. Garage heaters are heavy-duty and made to keep working through additional grime.
Evaluating Top Features of Garage Heaters and Mini-Splits
We've assembled a valuable guide to help you pick the ideal system for your garage.
Price
Garage heaters are the most economical solution. The average price varies based on fuel type, but they're usually about half the cost of a mini-split.
Operating Costs
Garage heaters are much like a furnace, using fuel to generate warmth. A mini-split air conditioner is more similar to a heat pump, which transfers hot air. This makes a mini-split more efficient to run. You'll enjoy decreased utility bills if you get an ENERGY STAR certified model. And you may be entitled to extra rebates due to that energy efficiency.
Fuel Source
Garage heaters have the broadest options for fuel kinds—electricity, gas or propane. Mini-splits are electric.
Heating and Cooling
As its designation indicates, a garage heater will only be providing heat. A ductless mini-split delivers both heating and cooling.
Precise Temperature Control
When you are seeking the most precise comfort control, a mini-split heat pump is the smartest solution because it offers zoned heating and cooling. That way, your garage will be the exact temperature you want it to be.
Space Considerations
Due to the fact garage heaters are typically mounted on the ceiling, they can consume valuable overhead storage area. In comparison, low-profile mini-split systems are often put higher up on a wall and don't require a lot of space.
If you're still deciding Thurston Heating & Air Conditioning can help. Call us at 308-624-3485 today to get a free, no obligation estimate. We'll discuss your needs, recommend a solution and get it put in fast, so you can get started enjoying your garage workspace much faster.